Shopping Basket
Your Basket is Empty
There was an error with PayPal
Click here to try again
Thank you for your business!
You should receive an order confirmation from Paypal shortly.
Exit Shopping Basket
B​estselling Austra​lian​ Author
'Mandy writes great stories…sexy and uniquely Australian!'
ADAM BRAND - AUSTRALIAN COUNTRY MUSIC ARTIST
| | |
| --- | --- |
| Posted on 6 March, 2013 at 21:00 | |
G'day! :)
I'm thrilled to welcome my guest today, the very talented Courtney Conway!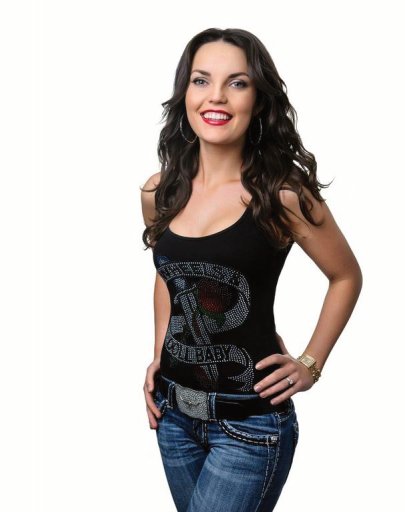 Hi Courtney, let's get to it...
What inspired you to be a country music artist?
When I was growing up my parents listened to a lot of country music! Dad was one of those guys that would buy the box set off the TV and get one free! He listened to a lot of the older more traditional country music from America like Billie Jo Spears, Loretta Lynn and Dolly Parton. Mum listened to more modern Australian country like Lee Kernaghan and Gina Jeffreys. So together they had all kinds of different country covered! Every year on boxing day our family would drive from Bendigo to Adelaide for a holiday, with Dad testing out his new 10 disc country box set on the 8 hour drive! My mum used to sing and play guitar on stage with her best friend Jenny up in the Mallee. When she had us four kids she learnt the banjo to play for us and encouraged us to sing along to nursery rimes. My Nanna (Mum's Mum) was a music teacher and has always had a really old pianola piano in her lounge room. Whenever Nan's brother Bill would visit he'd sit down at the piano and play honky tonk style. I just loved it! Ever since I was tall enough to reach the keys on the piano I wanted to play. Although I was classically trained I just loved the way a country song would tell and story. I loved the sound, the twang guitar and the fiddle. Country music artists are real people who will stop for a chat and say G'day, always friendly and fun! I loved every aspect of the industry the more I became a part of it. Shania Twain was a big influence when I was growing up, I wanted to be just like her. My first 3 albums I was ever given were Shania Twain, Dixie Chicks and Keith Urban. I guess my parents were my biggest influence with Mum being a country singer earlier on and both parents loving country music. It's funny because my next sister down grew up on the same music and she plays the harp and sings classical!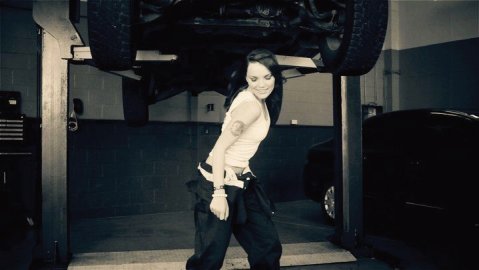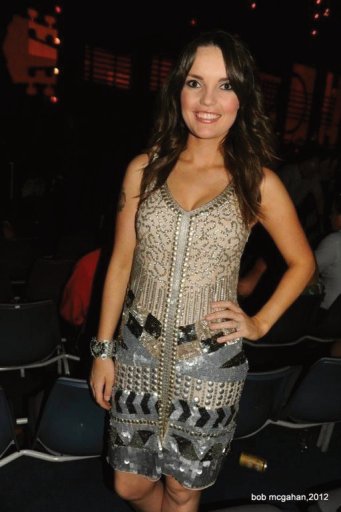 Can you tell us a bit about your most recently released album or song?
I released my first EP two years ago now, I recorded it in Sydney at Love Hz studios with Matt Fell and Sam Hawksley. I had the best time recording that little EP! It was the first time I had ever made a song I had co-written come to life. It's a really really exciting thing to do! My first single released from the EP was 'Girly Girl' which I co-wrote with Mike Carr and Adam Brand. The song was more successful than any of us had expected! I made a film clip with the very talented Glenn Wilson who also played drums on the EP. 'Girly Girl' reached the Top 30 on the Country Music Channel chart which was amazing! Especially for my very first release! I then released my second single called 'A Few Little Things' that was written in Nashville by two artists I haven't yet met. A Few Little Things reached the top 10 on the Country Music Channel chart, the top 30 on the Country Music Radio chart and gave me my first nomination for Best New Oz Artist of the Year in the Country Music Channel Awards this year. In 2011 I won Best New Talent at the National and Victorian Country Music Awards in Whittlesea. I've been so amazed at how well this little EP has gone! It won't be long before my new album will be complete which is exciting, it will be released early in the new year some time.


What are you working on now? 
Right now I am currently recording my debut album with Sam Hawksley in Nashville! I recorded for the first time in 2010 and released a 5 track EP so I'm well and truly ready to get this album out there! As soon as I get home at the end of March I'll be working on ways to promote the album once it's released later on in the year, releasing singles, film clips and hopefully playing lots of shows! 
Have you got a favourite song that you sing? If yes, what is it?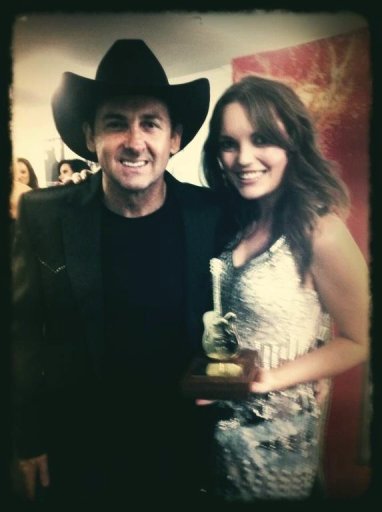 I have a long list of favourite songs and I'm constantly adding to it because I'm constantly finding amazing new songs! I think at the moment my favourite song to perform is called 'The House That Built Me' by Miranda Lambert. I love the original recording of it but I also like to break it down to just myself and the piano at my own shows. I love the lyrics because it reminds me of the house I grew up in at Bendigo with my parents, two younger sisters and younger brother. I also love it because when I was in Nashville in 2010 I went to visit the team at Warner Music Nashville where Blake Shelton is signed. Scott Hendricks was telling me that he found this incredible song and wanted Blake to record it. Blake took a copy of the song for a listen and on a long drive home he played the song to Miranda to see what she thought. Miranda cried as she listened to the lyrics and Blake had to pull over! She was so in love with the song she asked both Blake and Scott Hendricks if she could record it. The song was a HUGE success and I love that Blake Shelton and Scott Hendricks were happy for her to have the song and all the success that followed.

Swag or room service for a romantic date?
I like to mix it up with a bit of both! I've slept out under the stars in a swag many times - It's the most beautiful thing! Sitting by the nice warm, crackling fire with someone special, cooking marsh mellows and damper, enjoying the piece and quiet knowing that there's no one else around but yourself and your loved one. The stars are absolutely incredible when there's no street lights in the way! I reckon that is something everyone should do every now and then. But it's also nice to be spoilt once in a while with a beautiful meal cooked for you in a fancy room, 20 odd stories high overlooking the bright lights of the busy city. Then curling up in bed to watch a movie eating your favourite dessert! 


My very first car was a 1981 WB white Holden ute. I loved that beast to pieces! Literally! When I get older I want to buy another one and restore it. Because of my music I have a lot of travelling to do and my ute was so old things were starting to wear out and cause trouble. My Dad got so sick of fixing things on it every time I came home that he sold it to a friend of his! I still really miss that ute. I then got a 2004 model BA Falcon ute in bright red. She's such a great reliable ute, she's been really wonderful to me. I've always had utes to fit my full length keyboard in the back until just recently... I still have the Ford and drive it regularly but I also have a little Mini Cooper Chilli out in the driveway. Boy can that thing GO!  So it's hard for me to pick! At the end of the day, Holden was my first love :)

Favourite food?
Everyone knows that when we go out to the pub for lunch I'll be ordering the chicken parma with veggies! I'm a bit of a plain Jane when it comes to food but I'm getting better and more adventurous as I get older! I'm a really big fan of veggies, but my favourite fast food is McDonald's and if I was allowed to I reckon I could live on chocolate alone! In the last 18 months I've become a huge fan of these soup dumplings! They're just like a regular dumpling only they have soup inside them as well. There's a place right in the heart of Sydney that makes them and my husband took me there when we first met. He had to teach me how to use chopsticks but I'm pretty good at them now! Every time we're in Sydney we make sure we go there as often as we can! 
Favourite movie? 
The movie I've loved for the longest amount of time is Pretty Woman. Julia Roberts is just stunning and who doesn't love Richard Gere! Total chick flick! My favourite TV show would have to be the Big Bang Theory! Doesn't matter how many times I've seen the same episode it still makes me laugh out loud!
Favourite Aussie saying? 
Crikeys! My friends tell me I say that a lot!
If you could have a kangaroo, koala, wombat, crocodile, galah or python as a pet which one would you choose and why?
I reckon the ones with fur are all pretty cute! I'm scared of crocodiles and I don't like snakes. The horse show I toured with used to have a pet Galah but he was pretty moody. One day he'd want to kiss you on the cheek and the next he'd be trying to bite your nose off! They can all be pretty vicious in the wild but I think it would be fun to have a pet Kangaroo! I've known people that have looked after little joey's and they're so gorgeous. I love how they hop around behind you, following you just like a dog would. I love the pet kangaroo Jayne Denham has in her latest film clip "Shelter".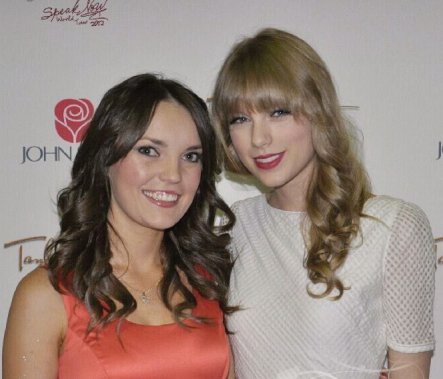 Who would you like to trade places with for a day, alive or dead and why?
I'd like to swap places with Taylor Swift for a day! I'd be able to experience what it'd be like to perform in front of those enormous crowds she attracts at her shows! Her life would be flat out busy but I like being busy. I could cruise around in her fancy bus, suss out her songwriting techniques, say g'day to Keith Urban and Ellen DeGeneres, plus I could hang out with her gorgeous little cat for the day! I'd like to see how those major shows she puts on operates. The list is endless! 
If I looked in your fridge right now what would I find?
Haha funny you should ask that - Not much! I've been flying between Western Australia and Victoria almost every two weeks for the last 3 months! I find it better to buy food as I go along when I'm traveling a lot so nothing goes to waste. I landed in Perth from Melbourne last night and this time my husband stayed in Perth. When I got home I looked in the fridge and there's a half full bottle of mayonnaise and 5 eggs. We don't even have any butter! I don't know what he's been living on since I've been gone but all the chocolate has disappeared!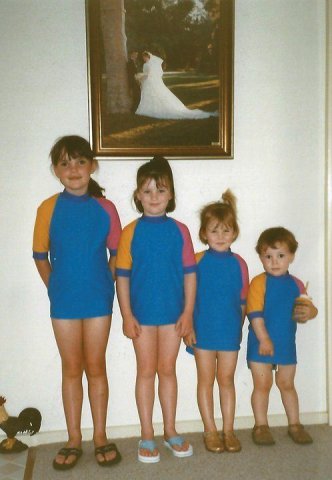 Craziest thing you've ever done?
Growing up I had always wanted to go to Nashville. I promised myself that when I turned 21 I would go over to Nashville, because you have to be 21 to go into all the honky tonk bars over there and I wanted to see the music. When my 21st birthday finally rolled around I really wanted to go to Nashville but wasn't sure I could afford it. My parents said that when I was ready to go over to let them know so they could book the flights as that was their 21st birthday gift to me. I had always planned to go very soon after my birthday but when it came time I wasn't sure it was going to work. Four days after my birthday I decided that I was going to go anyway! Mum booked my flights and 3 days later I was on a plane to Nashville all by myself! I'd never been overseas before and had no idea what I was doing. I stayed in Nashville for 3 weeks and had the absolute time of my life!


If you were going on holiday tomorrow, where would it be?
Nashville. Ask me any day of the year and that's where I'd want to be every single time. 
Four words that describe you?
Friendly, fun, bling, country!
Thanks for popping by for a chat, Courtney. It's been fun! 
If you'd like to find out more about this amazing woman you can visit her here...
Next week I will have Shea Fisher calling in, make sure you swing on by for that one.
Until then, keep smiling and dreaming,
Mandy xoxo
Categories: Country Music
/